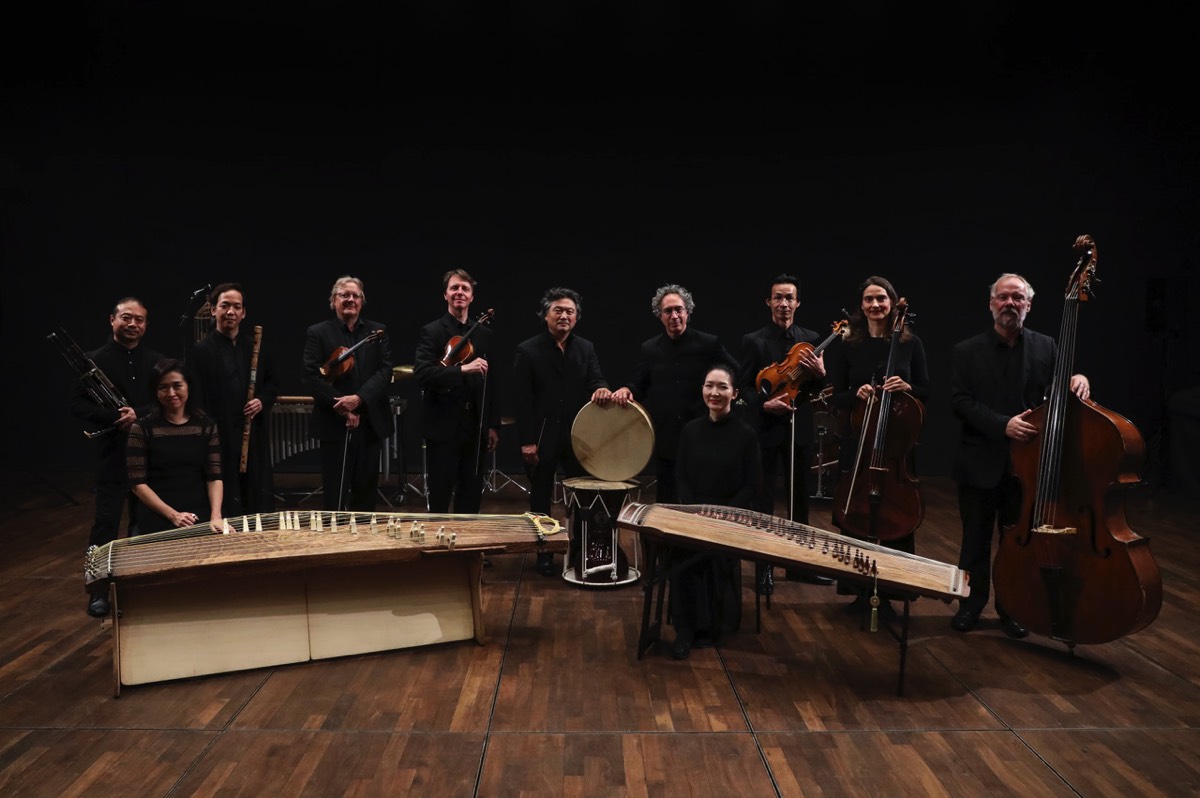 The AsianArt Ensemble was initiated in 2007, and formed in its present structure in 2009. In 2012 it won the prize of the German record critics ("Preis der deutschen Schallplattenkritik") for its first CD "asianart ensemble", published by Celestial Harmonies. Since then the ensemble has attracted more and more attention. In 2017 the AsianArt Ensemble was able to host the international festival for contemporary intercultural music "TURBULENZEN" in Berlins Radialsystem V, with the generous support of "Hauptstadtkulturfonds" and "Goethe-Institut".

With its unique combination of instruments and the music it performs, the AsianArt Ensemble has established an important role in the music world. With instruments from China, Japan and Korea combined with Western strings, AsianArt Ensemble opens up new avanues within contemporary music beyond the common styles of New Music or so-called World Music. "Contemporary Music of the World" best describes its style, as the music performed can neither be classified as European nor as Asian.
Each concert is concluded by an improvisation, allowing space for the ensemble members to share their playfulness and virtuosity.

AsianArt Ensemble is more dependent on new compositions than other ensembles, as very few works exist for its specific instrument combinations. In order to inspire composers to write new pieces, the AsianArt Ensemble organizes workshops. On these occasions, the focus lies on conveying the specific characteristics of Asian instruments and their traditional music, thereby initiating new approaches of composition for composers accustomed to writing for Western instruments.

There is even a political dimension in combining instruments from China, Japan and Korea with European instruments, though this is not intentional. In Asian countries there is quite a bit of nationalistic resentment against the neighboring countries, whereby this kind of an ensemble would not be conceivable in Asia. Therefore the AsianArt Ensemble is distinctly at home in Berlin.
Since October 2019 the AsianArt Ensemble is represented europe-wide by Massa Konzertmanagement.

In the speech held by Helmut Rohm in honor of the AsianArt Ensemble on the occasion of the ensemble being awarded with the prize of the German Record Critics, he states:

"A compellingly composed program comprised of bits of German and bits of Far Eastern origin!
The musicians succeed in creating an impressive art of playing together. While they let intonation and vocabulary, color and rhythmic energy flow into a new whole, the listener might just come to feel that time and space have become irrelevant."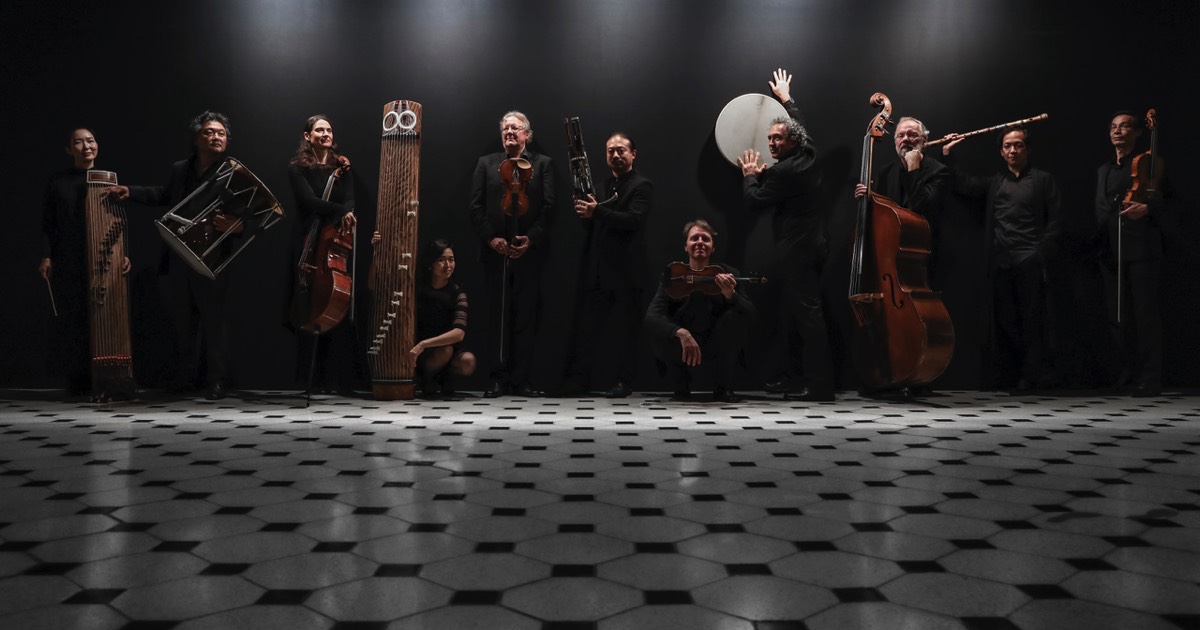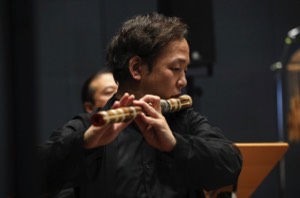 Hong Yoo - Daegeum

Korean Bamboo flute player, Hong Yoo, is a soloist who has a wide range of repertoire varying from Korean traditional music to contemporary music. He studied court music, sanjo, shinawi and folk music at the Gukak National High School and at the Seoul National University under master musicians such as Yong-Suk Seo, Yong-Ho Park, Gyu-il Hwang,Sam-Beom Choi and Jae-Won Lim. He has studied at the School of Oriental and African Studies, University of London (MMs in Performance Master Program), and graduated in 2009, when he launched his music career in Berlin as a soloist. He won several competitions and received awards including the "Special Prize of the Dong A Concours" and the "First Prize of the Jeonju Festivals". He has also performed at major music festivals such as World Minimal Festival (Amsterdam,Nederland), Klangspuren Festival(Schwaz, Austria), Trans Art Festival (Bolzano, Italy), Tongyeong International Music Festival (Korea) and Shanghai International Arts Festival (China). Hong Yoo continues his effort to introduce and develop the potential of his instrument and Korean traditional music in general. Extending his Daegeum repertoire from traditional pieces to newly composed works by composers in Europe and actively participating in various workshops, he continues with his experiments as a member of the AsianArt Ensemble, Ensemble Extrakte and Duo Momentum which consists of Asian traditional- and Western classical instruments.


www.yoohongmusic.com
Photo: © Sebastian Runge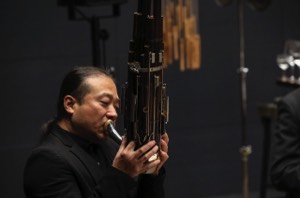 Wu Wei - Sheng

Sheng virtuoso Wu Wei has developed the ancient instrument into an innovative force in contemporary music. As a soloist, he has performed with such leading orchestras and
ensembles as the Berlin and Los Angeles Philharmonics, BBC Symphony Orchestra, Royal Stockholm Philharmonic Orchestra, Tokyo Symphony Orchestra, Ensemble Intercontemporain, and Ensemble Modern, The International Contemporary Ensemble (ICE) , with such conductors as Kent Nagano, Gustavo Dudamel, Marin Alsop, Myung-Whun Chung, Ilan Volkov, Susanna Mälkki, Matthias Pintscher, Markus Stenz, and Jaap van Zweden. He has given world premieres of more than 400 works, including more than 20 concertos for sheng and orchestra, by composers such as John Cage, Unsuk Chin, Jukka Tiensuu, Toshio Hosokawa,Tan Dun, Liza Lim,and Ruo Huang. Mr. Wu is also a prolific composer for the sheng, having received several commissions, including those from Fondation Royaumont and the Civitella Ranieri Foundation.
Mr. Wu has appeared at a number of prestigious festivals and venues worldwide, including the BBC Proms, Paris Autumn Festival, Edinburgh International Festival, Berliner Festspiele, Warsaw Autumn, and Musica nova Helsinki; the Berlin Philharmonie, Royal Albert Hall, Walt Disney Concert Hall, Suntory Hall in Tokyo, Concertgebouw in Amsterdam, Gewandhaus in Leipzig, and the Théâtre du Châtelet in Paris.
Mr. Wu studied at the Shanghai Conservatory of Music and at the Hanns Eisler Academy Berlin. He is a winner of the German music competition Musica Vitale, and was also the recipient of the German Global Root prize, German Record Critics' Award, and the Edinburgh International Festival's Herald Angels prize (2011). He was also named best soloist at the Chinese
Music Awards (2017).
Mr. Wu has recorded CDs and DVDs for Deutsche Grammophon, Sony, Harmonia Mundi, and Wergo. His recording Unsuk Chin:3 Concertos(Deutsche Grammophon) garnered the International Classical Music Award and BBC Music Magazine Award in 2015.


www.wuweimusic.com
Photo: © Sebastian Runge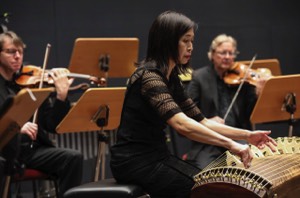 Naoko Kikuchi - Koto

was born in Sendai, Japan. In early childhood, she learned to play Koto from her mother and grandmother. Since 1990, she took lessons from Tadao Sawai and Kazue Sawai.
In 2007, Naoko received a year-long fellowship from the Japanese Government`s "Overseas
Study Programme for Artists" to work in Frankfurt, Germany, where she was a member of the International Ensemble Modern Academy. Since then she is based in Frankfurt.
She is a member of the AsianArt Ensemble (Berlin) and the Eric Schaefer Jazz Quartet project "Kyoto mon Amour".
Highlights of her career have been performances at the Agiago festival (Italy), Crosssound Festival (Alaska, USA), Japanese week in Yemen, Museo Nacional Centro de Arte Reina Sofia (Madrid, Spain), Deutsche Oper am Rhein, Düsseldorf (opera by Adriana Hoelszky), Mozart Sommer Festival at National Theater Mannheim.
Naoko Kikuchi has a very large repertoire, including traditional Japanese koto music, classical chamber music, contemporary music and improvisation. She has worked with numerous composers and has collaborated with many artists in other fields (dance, drama, visual arts).


www.naokokikuchi.com
Photo: © Sebastian Runge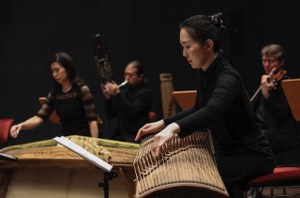 Youjin Sung - Gayageum

was born in 1982 and started to play the Gayageum when she was 12. She attended Gukak National High School and entered Korea National University of Arts and Korean Traditional Arts class at the top of her class and received her MA in 2008.
From 2004 – 2009 she was a member of the chamber orchestra Jeong Ga Ak Heo, Gomool.
Since 2014 she lives in Berlin and is a member of the AsianArt Ensemble. She gives Gayageum lessons and lecture recitals, introducing people to traditional Korean music and her instrument.
She has performed as a soloist in Poland, Hungary, Spain, Italy, Lithuania, Sweden, and Switzerland, and with the Janàček Ostrava Philharmonic (Czech Republic).

Photo: © Sebastian Runge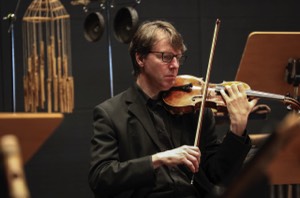 Matthias Leupold - Violine

The violinist Matthias Leupold is based in Berlin as a freelance musician. He is a founding member of Kammerakademie Potsdam. Since his conservatory studies at "Hochschule der Künste" Berlin he has been active in the new music field. He premiered many new works, both as a soloist and in ensembles such as United Berlin, Ensemble Mosaik, Modern Art Sextet and in the duo "Berlin Strings & Percussion" with guitar player and composer Il-Ryun Chung. He founded the AsianArt Ensemble along with sheng player Wu Wei and Il-Ryun Chung in 2009. Matthias Leupold is also a passionate tango violinist. With his Tango Real Quartet he has performed with great success all over the world, including in Buenos Aires, Montevideo, Istanbul, Lisbon and in the Berlin Philharmonie. As a member of Kammerakademie Potsdam he is also intensively involved in educational projects in schools and kindergardens.


Photo: © Sebastian Runge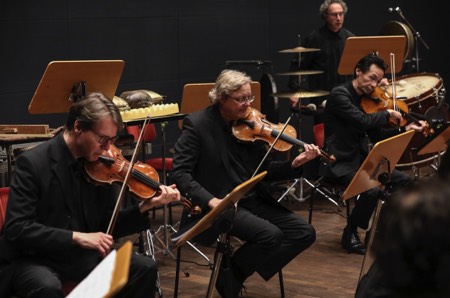 Wolfgang Bender - Violine
wuchs in Köln, London, Warschau und Berlin auf. Violinunterricht bei Wolfgang Herzfeld, Studium bei Bernhard Hartog und Prof. Eckhardt Fischer; Kammermusik bei Prof. Christoph Poppen (Cherubini Quartett) sowie Klavier/Improvisation bei Walter Norris in Berlin und Detmold. Er spielte einige Jahre in der Kammerphilharmonie Amadé (Frieder Obstfeld), der Kammerakademie Neuss (Johannes Goritzki), als Gast im Ensemble Oriol und der Kammerakademie Potsdam. Heute ist er Konzertmeister der Berliner Symphoniker bei den Opernprojekten mit Christoph Hagel und wirkt im Orchester der Komischen Oper und in verschiedenen Kammerorchestern mit: Kammerorchester Carl Philipp Emanuel Bach, Deutsches Kammerorchester, Neues Kammerorchester Potsdam und Kammerorchester Berlin (Kathrin Scholz).Er spielt im Ensemble Mosaik, im European Music Project, in der Musikfabrik Köln und im Ensemble Modern.
Foto: © Sebastian Runge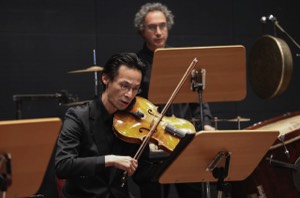 Chang-Yun Yoo - Viola

Born 1972 in Seoul, South Korea, Chang-Yun Yoo first began music with piano lessons. At the age of eleven he started to learn the viola. Soon after that he won a number of national music
competitions in Korea as a violist. Chang-Yun Yoo studied under the tutelage of Prof. Rohde at the Berlin University of Arts and received his soloist's diploma in 2006.
During his studies Chang-Yun Yoo won several international competitions. He worked as principal violist in the Museumsorchester Frankfurt/ Main, Hamburg Philharmonic, Philharmonic Orchestra Gran Canaria in Spain and with the Dessau Philharmonic.
Since 2007 he ist based in Berlin and works as a freelance musician, collaborating with renowned ensembles such as Deutsche Kammerphilharmonie Bremen, Kammerakademie Potsdam, Ensemble Resonanz Hamburg, Deutsche Kammerakademie Neuss, Modern Art Ensemble Berlin.
He is a member of AsianArt Ensemble Berlin, Musica Sequenza, Work in Progress Berlin, Aurum Ensemble Berlin and Korean Chamber Orchestra.


www.yoochangyun.de

Photo: © Sebastian Runge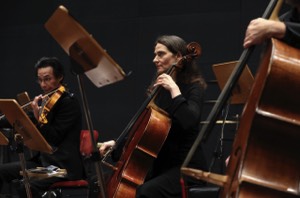 Gabriella Strümpel - Violoncello

Gabriella Strümpel was born in the USA and moved to Berlin when she was 7 years old. She studied the cello with Dietmar Schwalke (Hochschule der Künste, Berlin) and Christoph Richter (Folkwang-Hochschule, Essen). At the Krakow Mozart Academy, she worked with musicians such as Sándor Végh, Boris Pergamenschikow and Thomas Riebl.
She then studied with Wolfgang Boettcher and Alexandra Müller in Berlin, where she received her concert soloist diploma. Gabriella attended numerous master classes with musicians such as Anner Bylsma, Uzi Wiesel, Steven Isserlis, János Starker, György Kurtág, and most importantly and intensively – György Sebök.
From 1997 to 2008 she was a member of the Flemish Radio Orchestra (now "Brussels Philharmonic"). Since then she is based in Berlin, where she has worked in numerous orchestras, including Deutsche Oper, Berlin Philharmonic and most frequently Kammerakademie Potsdam. She joined the AsianArt Ensemble in 2012. She is sought after as a teacher and coach for chamber music and orchestral section rehearsals. She also teaches "Musicoaching" - a holistic approach to music for amateurs and professionals.


www.musicoaching.eu
Photo: © Sebastian Runge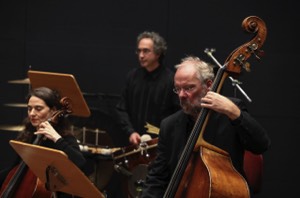 Matthias Bauer - Kontrabass

Matthias Bauer is a double bass player, improviser and composer who mainly works in the field of improvised and contemporary music. He has performed with many internationally renowned musicians of the free improviser scene and took part in various ensembles and festivals. A central theme of his are his own solo performances incorporating his voice. He has performed a large repertoire of solo compositions and is working with Berlin based new music ensembles Unitedberlin, AsianArt Ensemble and Ensemble Mosaik. His compositions aim to make a bridge between composition and improvisation. He is on several CDs and has performed at festivals like Maerzmusik Berlin, musicaviva München, Biennale Venedig, nuovaconsonanza Rom, musique sur scene Lyon, Daegu Contemporary Music Festival, Wien Modern, Konfrontationen Nickelsdorf and Total Music Meeting Berlin.


www.bauerbass.de
Photo: © Sebastian Runge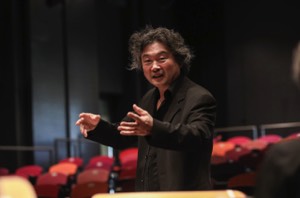 Il-Ryun Chung – artistic director / conductor

At age 16 Il-Ryun Chung began teaching himself to play guitar and started composing music. In 1984 he went to Berlin, where he found his first teacher and supporter, Carlo Domeniconi.
From 1989-1995 he studied composition at the Berlin University of Arts (HdK Berlin) with Prof. Jolyon Brettingham-Smith.
A further encounter of great significance was his acquaintance with the Korean master drummer Kim Duk-Soo, who introduced Chung to Korean percussion music and thus made a lasting impression upon Chung's rhythmic perception.
In 2001 he co-founded the multinational ensemble IIIZ+ and in 2009 he co-founded the AsianArt Ensemble with instruments from China, Japan, Korea and Europe.
He created his distinct style of composition through his experiences in the two ensembles, taking into account both theoretical concepts and human interpretation. He also explored the practical feasibility of playing polymetric rhythms.
Since February 2014 he heads the composition department at the Akademie für Tonkunst in Darmstadt.
In 2016 he was composer in residence of the National Orchestra of Korea.
In 2017 he was the director of "Turbulenzen - Festival for contemporary intercultural music" at Radialsystem V in Berlin.


www.ilryunchung.com
Photo: © Sebastian Runge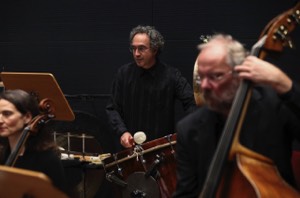 Adam Weisman - percussion
Adam Weisman studied at the Manhattan School of Music in New York, The Conservatory of Versailles and at the Hochschule for Music in Munich. In 1991 he won 3rd prize at the ARD music competition in Munich and in 1992 2nd prize at the International Music Competition in Geneva. He performed with New Music Consort and NewBand in New York in 1998-90, and since then with Ensemble Modern, Klangforum Wien (residenceship 1997-98and 2004-05) Zeitkratzer (concerts with Lou Reed in Berlin and Venice), and Scharoun Ensemble (members of the Berlin Philharmonic) and is a member of Berlin PianoPercussion. He premiered pieces by Peter Eötvös, Tan Dun, David Lang, Matthias Pintscher, Helmut Oehring and more. He played under Pierre Boulez, Emilio Pomarico, Stephan Asbury, Sylvain Cambreling, and played on many CDs, including one with Ensemble Modern, Frank Zappa and music by Varese. His solo CD, Mani, three solos from Pierluigi Billone, was chosen for the best list for new music for the first quarter of 2011 by the German Record Critics' Association. As a soloist he has performed in Athens (concerts in honor of Iannis Xenakis), Academy of the Arts in Berlin (2 concerts in honor of Cage) Paris, Munich, Geneva, Berlin, Vienna, Danzig, Perugia and Mar del Plata in Argentina. He is the Drummer with the rock band The Diatribes.
www.adamweisman.net
Photo: © Sebastian Runge